Closets as an Afterthought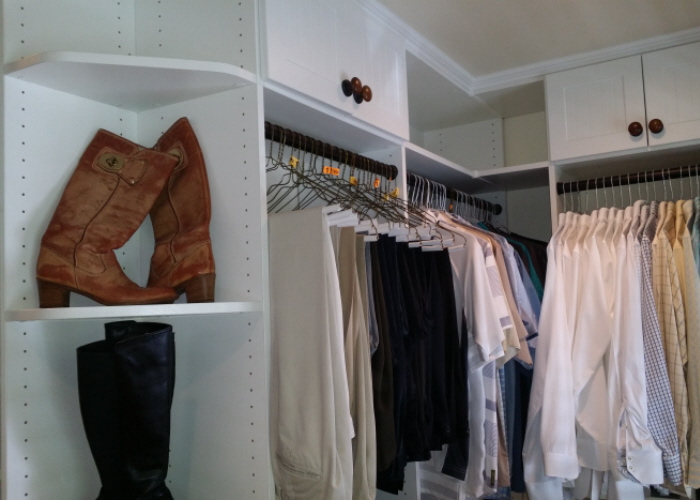 Most people wouldn't build a new home without a budget for bath fixtures, kitchen cabinets or flooring. We have certain expectations or a vision of how we want our homes to look and more important, how the various spaces in our home will function. A bathroom without a tub or shower would be unthinkable.
So why would you invest the considerable cost and effort to build a new home without a plan and budget in place for your home's closets? Advance planning is especially important with closets because unlike a bathroom or kitchen where codes dictate at least minimum requirements, there are no codes to guarantee that you get a functional walk-in closet. The layout of your closet is totally at the discretion of your builder. Does he place the same value on closet space that you do?
Have you budgeted for the cost of outfitting your closets?
We hear it time after time from new homebuilders: "There is nothing left in the budget for closets." So you've just spent a year of your life making decisions about colors and flooring and fixtures. You've spent at least several hundred thousand dollars. And when it comes to outfitting a space that's used several times every day, day after day, you are willing to settle for the cheap way out. An eight by eight walk-in closet with a rod and shelf or some minimal wire shelving components is a waste of space.
The other type of afterthought closet is the undersized walk-in closet. Our client has a vision of lots of hanging space, shoe shelves, drawers, hampers... Wait! Your closet is only four by six feet. You can only use two walls... and sadly, your vision evaporates. You could have saved a whole lot more money by just building a reach-in closet to begin with.
The Solution
It's simple. Call on your trusty closet designer with a copy of your plans and spend an hour with a closet going over what you are hoping is the end result. Understand if your plans provide enough closet space to fill your needs. And most important, establish a budget figure for your home's closets in the planning stage of the project so you are not unpleasantly surprised at the end.