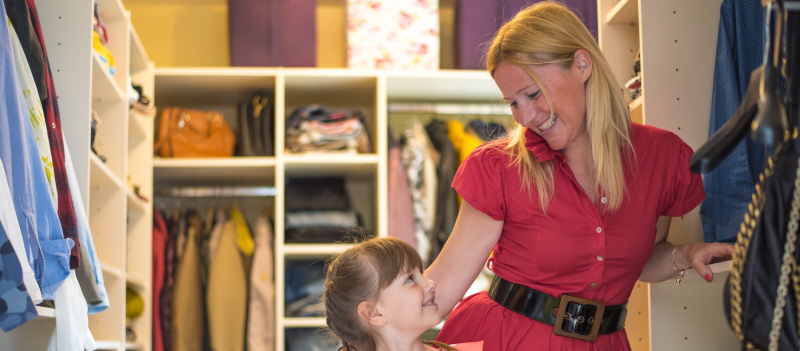 Five Reasons for a Closet Makeover
by Bill Huntley
Some people think storage and organization systems are great for holding more "stuff." And while that may be true, it's not the real reason why most people invest in these kinds of solutions.
Over the years we have gathered a great deal of feedback from clients and prospects. One thing we hear over and over is how frustrated homeowners are with their home's storage systems and closets. Most folks have a busy day, every day—getting kids off to school or daycare, getting to the office or jobsite—who has time to waste on cluttered closets when getting ready for work or preparing dinner for a hungry family. Most people are surprised by the benefits of a well-designed closet—to their lifestyle, their state of mind, or even their wallets.
The five reasons include:
1. Control. Holding lots of stuff has its merits, but people often look at all the stuff in a storage space like a pantry, and get overwhelmed. They don't know what to do with the space, or how to fix it, and they keep cramming stuff in until it just becomes unusable. Putting in a storage system will make the space more usable and gives you better control of your time and emotional energy.
2. Simplicity. There's a cycle homeowners go through. It looks a little different for everyone, but basically, they get more and more stuff, and then they decide, I don't need all this stuff. Having a storage system helps people organize the things they need in their daily lives, and they can get the rest out of the way – donate it, for example, or just get it up in the attic."
3. Organization. People ask us if only disorganized people invest in closet storage services. You'd think the well-organized person wouldn't need or want it because some inherent ability to keep things neat. But in fact, well-organized people often seek additional solutions from professionals to help put a finer point on their own actions.
4. Functionality. In the closet storage an organization world, wire closets are often greeted with disdain. They're synonymous with limited functionality. We regularly see them break or tear out of walls, and have much lower storage capacity – in terms of both weight and volume.
5. Home Value. These days homeowners sell their homes, on average, in less than ten years. To increase the value of the home, owners often pursue remodeling projects like closet, laundry, pantry, and garage storage systems. Closet systems are an especially attractive option in this market. They're seen as a luxury item, and that can make a home stand out in a slow real estate market. We hear this from our clients over and over after they have sold their home and call us in to design closets for their new home.
About ClosetPlace
ClosetPlace, serving homeowners across New Hampshire, and Coastal Maine designs custom storage solutions to simplify your daily life. From pantries to closets, laundry rooms to garages, you can "Expect Magic" with our attention to detail and commitment to creating the solution that's just right for your life. Download their free Closet Planning Guide for more tips for organizing your home.