Closet System: Defined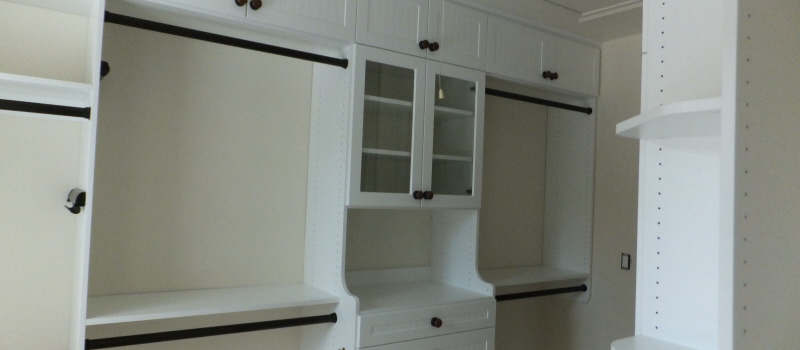 by Bill Huntley
One day a woman walked into our showroom and scanned the displays wearing a very confused look on her face. "Oh," she said to me, "I thought you sold closets. I'm doing my bedroom over and saw your ad in the paper so I thought I'd come in." When I pointed out the display right in front of us her response was, "That's not a closet." We were looking at a child's reach-in closet with a section of triple hanging rods, a center section with roll-out baskets, drawers, and adjustable shelves, and a section containing low hanging and shelves. "I just have a regular closet," she said, "you know, you open the door and hang your clothes inside." This is not an uncommon experience to have with a Client.
Sales of home organization products exceed $8.6 billion annually in the US. Huge retailers like Home Depot and California Closets, as well as hundreds of independent companies like ClosetPlace spend millions of dollars annually for the purpose of informing consumers about the products they offer. Yet some folks seem to have no real idea of just what a closet system is. When I explained the way the system works and the options available for her specific needs and pointed out examples, my visitor quickly became enthusiastic about installing closet systems in her newly remodeled bedroom. What I think happens is that consumer awareness begins when a need arises for a specific product, but until then it remains off most folks radar.
This experience got me curious about what information is available to folks who might want to learn more about the definition of a closet system. The first thing I did was to type the term into Google. All I got there were a bunch of advertisements from companies wanting to sell me a closet system. Nothing came up that explained to me what a closet system was. So next I turned to Wikipedia. I love Wikipedia---great information and no ads screaming in my face. Unfortunately I found no definition of the term closet system. So I looked up each word of the term separately.
Here's the start of what Wikipedia had to say about closet: "A closet is a small and enclosed space, a cabinet, or cupboard in a house or building used for general storage or hanging clothes." Not a great definition. Using small to qualify the space doesn't seem right to me. I've been in many closets that are larger than any room in my house. Perhaps small is in the eyes of the beholder. The other flaw that I see in this definition is its narrowness: Clothing stored within a closet is certainly not limited to hanging, but may be folded, stacked, or arranged in various containers within the closet.
The article defining systems was right on. It describes a system as a set of interacting entities, forming an integrated whole. These entities would be our closet components. Great stuff. It goes on to state that man-made systems (like our closet system) "have a certain purpose, (or) set of objectives." I would define the objectives of a closet system as using the allotted space efficiently for the convenient storage and retrieval of clothing, linens, utensils, etc. as well as having the flexibility to adapt to changing needs. All systems are not created equal however. Let's look at some typical treatments of closet spaces:
Rod and Shelf

: This is the standard system used for years in clothes closets (and still used today by many builders), a single shelf above a rod that stretches from one end of a closet to the other. If your closets are constructed that way then you know from experience what an inefficient use of space this is.

Fixed shelves in linen, pantry or utility closets: Another very inefficient system. With fixed shelves the builder must guess how they may be used--if a shelf is tall enough for a cereal box but you want to use it for storing cans you end up with tons of empty space, and of course inversely, you certainly can't fit your Cheerios on a 6" high shelf.

Wire closet systems

: Again, not adjustable systems. These systems also tend to be structurally weak and many homeowners report that they pull off the wall and collapse. Other complaints include wire impressions pressed into folded clothing or pantry or bath items tipping over on the thin wire shelves.

Custom built

: Closets may be custom built on-site by a carpenter or may be shop-built by a cabinet maker. Regardless of the method, the main objective is function. Many such systems are beautiful as well as functional, but many sadly miss the mark and end up with hanging rods and shelves at the wrong height, or drawers and shelves in dysfunctional sizes.

32mm systems

: Derived from European cabinet design, this is the

system

that most closet companies use. In my opinion it the it is the most flexible and functional system for closet efficiency possible. Basically the system consists of a series of vertical panels with a pair of 5mm holes drilled at 32mm intervals from top to bottom. All closet and hardware components, like hanging rods, drawers, slides, adjustable shelves, hinges and doors, and roll-outs are designed and sized to attach to the panels via the 5mm holes to form closet sections that perform a variety of storage functions.
So what is the definition of a closet system? Here's mine:
Closet System. A set of integrated components installed within a closet space for the purpose of the efficient, convenient storage and retrieval of items like clothing, linens, food or utensils. Typically closet interiors are designed to accommodate specific storage functions, e.g. linen closet, pantry closet, wardrobe, etc.